Kids will want to taste snow. Help them find some that's clean enough. Same with icicles. You might know what dirt is on the roof, but let that go; find a cleanish one.
Kids will want to touch snow, see it, smell it. Just the other day a kid in my yard was talking about how different it sounded, walking in it on the third day, than the first day. It was squeaky, when it compressed.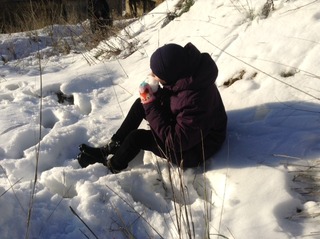 What seems old and normal to you will be new to each child who is born and sees things for the first time. Be patient and generous and maybe you can see it again, as though it were new to you, through their eyes.
SandraDodd.com/addlightandstir
photo by Ruqayya