Holly was here today. She's 22 years old now. In this photo, she was 14 or so.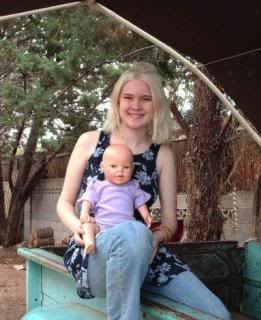 Today she was trying out a new basket, for the possibility of being a babydoll bed. She has a babydoll collection. She was carrying one of her favorites around while we were talking, and asked me seriously why, when she has had it out in public, people have reacted so oddly. The only acceptable answer seemed to be that she was taking a class of some sort, and needed to carry a baby doll. Otherwise, they didn't know how to respond.
I gave her some possible responses to use ("I really like it" or "He feels almost like a real baby" or something conversational), but the real answer was that there is often pressure on kids to stop playing with certain things at certain ages. Baby dolls, maybe by the time girls are eight or so. Boys even sooner (if they were allowed to play with a doll at all).
Holly grew up without much pressure to conform to arbitary age rules. I'm glad.
SandraDodd.com/playing
photo by Sandra Dodd