A cranky person wrote to me:
I do unschool but I obviously do not subscribe to your radical view of unschooling where children are expected to learn by osmosis and television shows.
To the Always Learning discussion list I wrote:
When the environment is rich, children learn by osmosis, if the membrane through which ideas pass is their perception of the world. What they see, hear, smell, taste, touch and think becomes a part of their experience, and they learn. And they learn from television shows, movies, paintings, books, plants, toys, games, movement, sports, dancing, singing, hearing music, drawing, sleeping.... as if by osmosis, they live and they learn.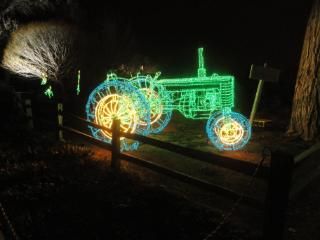 SandraDodd.com/tv
photo by Sandra Dodd of a tractor covered in lights
Albuquerque Bio-Park's "River of Lights," 2011