Once when a new video game was to come out in three weeks or so, I overheard Marty and Kirby discussing at length and without any frustration all the different combinations of ownership and funding might be possible for them to put their allowance together and buy it. If Kirby contributed as much as Marty's allowance, they could be co-owners, but wouldn't have enough to get it the day it was released. Could Marty owe Kirby, and buy in up to 50% later? Should Marty just own a lesser percentage? I think they were 9 and 12 or so. It was complicated math, with all those percentages of increments of age times .75, but they were doing it, and just in their heads, and happily, with a purpose.
They didn't think to ask us for help. They didn't feel they needed to.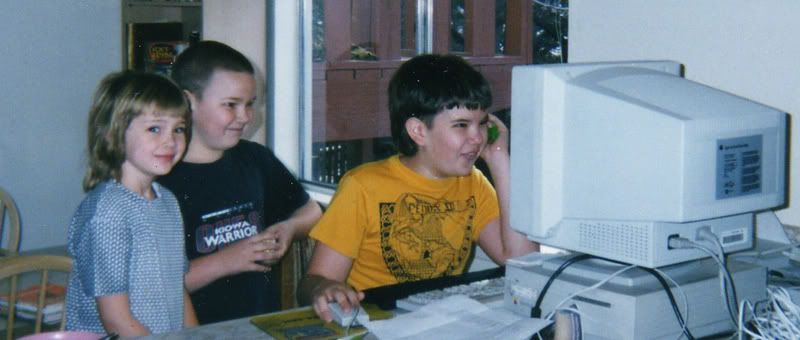 SandraDodd.com/money
photo by Sandra Dodd, of my kids playing Zoombinis,
not a Nintendo or Playstation game,
but their ages match the story above.
NOTE: I hope your family can afford more, but our kids got seventy-five cents per year of age, weekly. So in the example above, if they were 9 and 12, Marty was getting $6.75 and Kirby was getting $9.00. Console games were $50 or $60 in those days.