Holly and I went on a day trip a few days ago to see her cousin, my niece. We were on a road neither of us had ever been on and might not travel again. This is a photo right out the window of the van, from the driver's seat. I used the steering wheel to brace the camera. Leaves are changing, but it's still warm for October.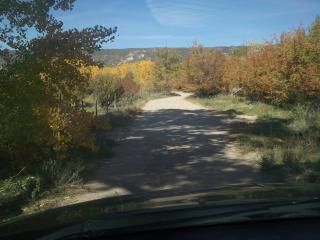 Already it's history. Most of those leaves are still on those trees; not all of them, though all will fall. Holly and I will never have that day again, except in photographs and memories.
Where you are when you read this is a place where you can find value or beauty. The moment you read this is a moment you can make better, if by nothing more than breathing in gratitude and appreciation.
SandraDodd.com/being
photo by Sandra Dodd, October 22, Los Luceros, New Mexico